Research
The program addresses, on the one hand, the theoretical refining and conceptual development of the dimensions concerning to the consolidation of the Rule of Law and the deepening in democracy. On the other hand, there is a special technical concern for the improvement and progress of the instruments and processes related to the fight against corruption and the promotion of good governance measures.
Training
The program has among its objectives the pedagogical ordering and the generation of teaching materials suitable for educating on the culture of lawfulness to a plurality of possible audiences. Its introduction into the regulated education and the training of personnel highly qualified to implement policies of good governance, institutional rationalization and fight against corruption are key issues for this objective.
Consultancy
The consortium that forms the Program also offers a technical and applied profile. For that matter, it aims to establish transparency and liability protocols applicable to public administrations; as well as offering consultancy services for the implementation of participation measures and establishment of protocols of an ethical nature in both public administrations and private entities.
Evaluation
Evaluation of the existing situation regarding the deficits of processes of political legitimation and fight against corruption. This implies verifying the intersection between the variables of corruption, the fight against it and the levels of impunity with the social and political processes of delegitimation of institutions and the continuities and differences that it presents with other processes of loss or decline of legitimacy.

CALL FOR PAPERSEunomia. Journal on Culture of Lawfulness is transversal to different disciplines of the social sciences and the humanities, among them, stand out legal, political, sociological and philosophical. Its subjects deal with the legitimacy of the law and its obedience, paying special atten...

Carlos III of Madrid (UC3M) participates in the eighteenth edition of the Week of Science and Innovation in Madrid with more than thirty free activities that enable firsthand R & D + i of the institution: Door Days open, workshops, guided tours, storytellings. New Trust will participates in&nbsp...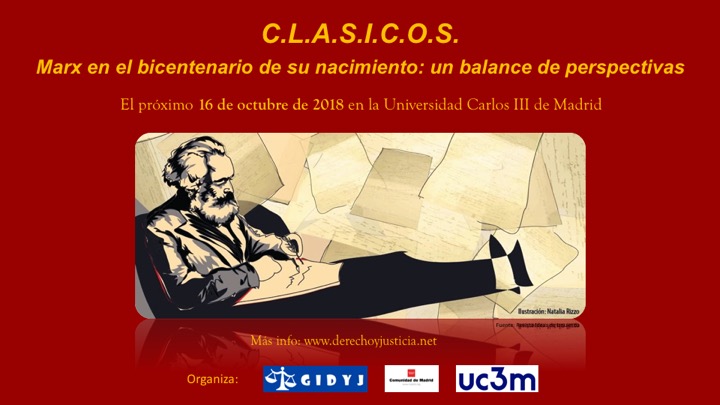 El bicentenario del nacimiento de Karl Marx (1817-2017) está resultando conmemorado en círculos académicos de muy diversa índole, siendo acompañado de las correspondientes publicaciones y conferencias. En esta línea se presenta la siguiente Jornada en torno a a dicho autor, en la que se aborda...

It is already available the Volume 15 of Eunomía. Journal on Culture of Lawfulness, corresponding to the semester October 2018 - March 2019Journal Eunomia V. 15, click here
Hour: 10:30
Place: Carlos III University of Madrid. Ortega y Gasset Building . Room 17.2.75
Organized by: Research Group on Justice and Law (GIDYJ)
Hour: 15:00
Place: ISDE Law School-Calle Serrano, 208, 28002 Madrid
Organized by: Carmen Pérez González

Eunomia. Journal on Culture of Lawfulness is configured as an editorial commitment of semiannual periodicity, interdisciplinary profile and academic character that pursues an international projection and opts for an electronic, free and open spread.