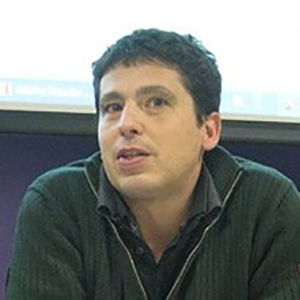 View curriculum
Andrea Greppi
Researcher
---
Research areas:
Political Theory
Democracy, democratization
Political Philosophy
Philosophy of Law
Public Opinion
Political Participation
Relationships between powers
---
Recent publications:
Greppi A., Teatrocracia, Editorial Trotta, Madrid, 2016
Greppi A., El campo de juego. Estudios sobre las condiciones del método democrático, Editorial Fontamara, México D.F. (en prensa)
Greppi A., Una sfera pubblica frammentata. Democrazia, comunicazione in rete e ingiustizia epistemica, en Iride, vol. 28, núm. 75, pp. 331-344.
Greppi A., Partidos ciucidas. Sobre la diversidad de instancias mediadoras de la autoridad política, en L. Salazar Carrión (ed.), ¿Democracia o posdemocracia?, Fontamara, México, 2014.
Greppi A. y Rainer Nickel (eds.), The changing role of law in the age of supra- and transnational governance, Nomos Verlag, Baden-Baden, 2014.
Greppi A., Laicidad y relativismo. Diálogo sobre lo que tiene que estar dentro y lo que queremos dejar fuera de la esfera pública, Instituto de Investigaciones Jurídicas / UNAM (México), 2013, 46 pp.
Greppi A., La doble negación. Fascismo, antifascismo y democracia, en F. Villacorta Baños (ed.), Regeneracionismo autoritario. Desafíos y bloqueos de una sociedad en transformación. España 1923-1930, Biblioteca Nueva, Madrid, 2013, pp. 45-56.
Greppi A., La demanda de memoria. Transición, diálogo y democracia, en C. Proner, P. Abrão (eds.), Justiça de transiçao. Reparação, verdade e justiça, Editora Fórum, Belo Horizonte (Brasil), 2013, pp. 51-69.
Greppi A., Eficacia, en Eunomía. Revista en Cultura de la Legalidad, vol. 3, septiembre 2012-febrero 2013, pp. 150-159.
Greppi A., Contra la falsa transparencia. Genealogía y consecuencias en la esfera pública, en Teoria Politica. Seconda serie, vol. 3, 2013, pp. 115-138.
Greppi A., Semántica, pragmática y democracia, en Doxa. Cuadernos de filosofía del derecho, vol. 34, 2012, pp. 139-152.
Greppi A., La democracia y su contrario. Representación, separación de poderes y opinión pública, Trotta, Madrid, 2012.
Greppi A., Voluntad individual y representación colectiva en Thomas Hobbes, en J. Marcone, S. Ortiz Lerroux, A. Sermeño (eds.), Los vértigos de la política. Una revisión de la modernidad, Ediciones Coyoacán, México D.F., 2012, pp. 55-76.