TIE
Non-Governmental Organization
Transparency International (TI), the only one nongovernmental organization universally devoted to combating corruption, brings civil society, private sector and governments on a global coalition. Through its chapters in the world and its International Secretariat, Transparency International, discusses the different facets of corruption, both within countries and in terms of economic, trade and international policies. The purpose is to understand and cope with two faces of corruption: who corrupts and who can be corrupted. Internationally, TI drives awareness campaigns on the effects of corruption, promotes the adoption of political reforms, the establishment of international conventions on the subject, and encourages adherence to them and then observe the implementation of such agreements by Governments, corporations and businesses. Also, at national level, Transparency International chapters act in pursuit of greater transparency and the realization of the principle of accountability. To this end, TI monitors the performance of key institutions and pressing for nonpartisan adoption of reforms that are needed.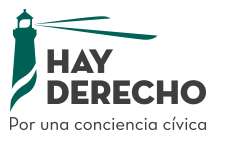 Hay Derecho
Foundation
Hay Derecho is a foundation which promotes institutional regeneration, combats corruption and defends the rule of law.

National Institute of Public Administration
Autonomous Body. National Government of Spain
The National Institute of Public Administration (in Spanish: "Instituto Nacional de Administración Pública - INAP") is an autonomous body within the national government of Spain, attached to the Department of Finance and Public Administration. The National Institute of Public Administration is the leading government's Civil Service training school in Spain. It started as a simple "Centre" in 1958, but over the following decades its size and responsibilities have grown in a substantial manner. Namely, in 1987, it was merged with the pre-existing Institute for studies on local government (Instituto de Estudios de Administración Local), a body founded in 1940. Its current by-laws have been approved by a royal-decree approved in 2000, as amended.